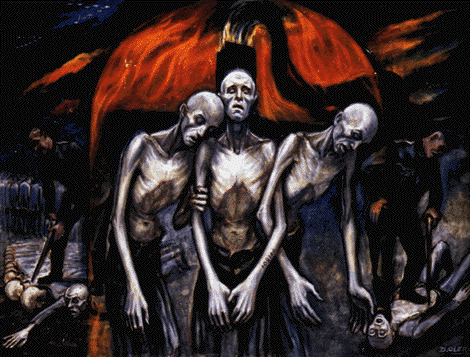 "The picture to the left is a painting of the flames coming from the crematorium and some Jews in front of it."
1. We would stand or sit in the back just thinking of what we could do to get out of the mess we were in. If anything we would try to calm everyone down and try to come up with solutions or plans to escape. We would probably be thinking of a happier place to keep our minds off the things that were happening around us.
2.Well we think it was a little bit of both. She might have actually seen the fire and the crematorium, but she was acting too crazy for anyone to believe her. She kept screaming and screaming when it really wasn't necessary.
3.We believe that the Jews were thinking how horrible it was going to be after the train ride when those doors opened and they saw the crematorium, they thought of their loved ones and about how death was soon to come. We think that they did not regret treating the way they treated her because they did what they had to do, if she did not be quiet the Nazi's would have killed them all. One life gone is better than a train full of lives taken, they did what they had to do, even if it was wrong just to save themselves.
Ashley U, Darius J, Suzy B, Erika K